The U.S.-financed tyrant in Ethiopia, Meles Zenawi, has been committing horrific crimes in Ethiopia during the past 20 years. Many of these crimes have been documented by every major international human rights organization, including Amnesty Int'l and Human Rights Watch. Ignoring such crimes against humanity, the U.S. Obama Administration has allocated $580 million in assistance to the Meles regime in 2011. The following are graphic pictures of two Ethiopian women and an 8-year-old boy in the Ogaden region who are suspected of being supporters of the Ogaden National Liberation Front (ONLF). Such actions alone should have landed Meles at the International Criminal Court (ICC). Instead, he is invited by the U.K. and U.S. governments to attend G20 meetings. The photos below are provided by African Rights Monitor (ARM) this week: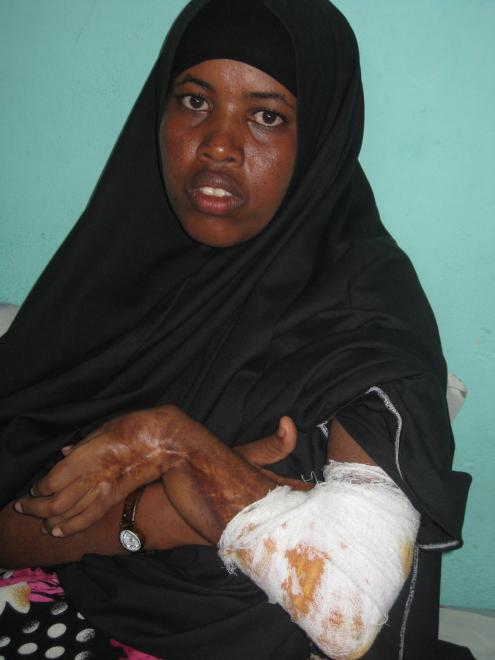 Kowsar Yusuf Gud'Ade (Age 23) — Kowsar was arbitrarily detained by security forces of Ethiopia's tyrant Meles Zenawi.
While in detention, she was severely beaten and tortured. The soldiers used different methods of torture including electrocution. Kowsar's left arm was broken during one of the many beating sessions.
Kowsar begged for mercy and asked for medical attention, but the army denied her any treatment. She was eventually released. No explanation was given for the arrest or the subsequent release. Kowsar sought treatment for her injuries.
As shown in the picture, the injury was severe and the damage could not be reversed as the treatment facilities in the Ogaden are not equipped to deal with such severe injuries. She fled the region shortly after her release. Kowsar is now in constant pain and has so far not received the proper medical attention.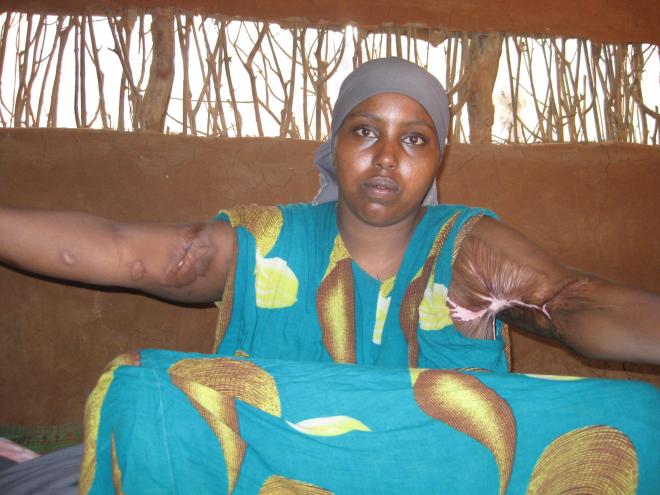 Farhia Mohamed Mahad (Age 20) — Civilians are arrested and jailed in Ogaden on mere suspicions of being part of the Ogaden National Liberation Front (ONLF) and Farhia was no exception. Farhia was only a child when she was arbitrarily detained and jailed at Garbo Jail in the Ogaden. No explanation was given for her arrest. Farhia remained in jail for five years. During her imprisonment, Farhia was subjected to torture, rape, and electrocution. Her body, especially her chest and breast, suffered severe burns as a result direct electric current. Farhia has permanent scar tissues all over her body. Farhia received no treatment for her injuries.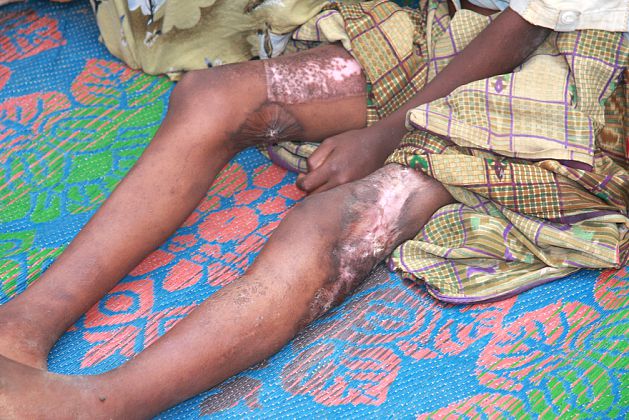 Ismail Abdirahman (Age 8) — Ismail came to the refugee camp with his grandmother Hawa Hassan. They fled from Gunagado, Dagahbur. According to Mrs Hawa, the military came to her village, caught many villagers by surprise, and ordered everybody to come out of their houses. The soldiers started targeting and burning certain houses including Hassan's house. Ismail and his uncle Mahamud were in the house when the soldiers set the house ablaze. Mahaumud was severely burned as he shielded Ismail from the flames. As a result, Ismail suffered burns on his thighs and knees and Mahamud died from severe burns and fumes.